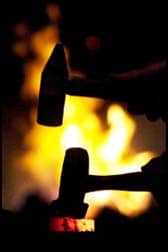 Writing a blog is not exactly something I thought about doing before.  But when I started to think about it, I was sharing my thoughts on Twitter or Facebook in snippets already, so perhaps a blog gives me a little more room to talk about a topic, or a book, or just a random thought.  And so as the new venture of Caldwell Consulting & Training gets started, with a mission of helping others succeed in business, I will start with why I am in business in the first place.
There is a proverb that states "Iron sharpens iron, so one man sharpens another."  This concept is found in various books and articles where we talk about the type of people you hire and the friends you have and where you look for advice and direction.  Dave Ramsey has said often on his radio program that you don't want to ask broke people how to get out of debt-  you want to ask people that are out of debt and have their "financial house" in order. Weight Watchers touts much of the success of their program to the weekly meetings where others who want to be healthy come together to encourage each other and share successes.  Alcoholic's Anonymous is founded on the principal as well, that you lock arms with others as you take steps to improve.  And so it is in business as well.
You need to be surrounded with people that encourage you and celebrate with you, and that you can do the same for them.  We each have strengths and weaknesses and when you find good people to work with that compliment you in some way, you both win.  Perhaps there's an element of healthy competition in there, and that's okay.  Perhaps there's some accountability.  But always there should be growth and being better for knowing that person or working with them.  At CCT, that's what we aspire to do and be.  Who do you have like that in your life?