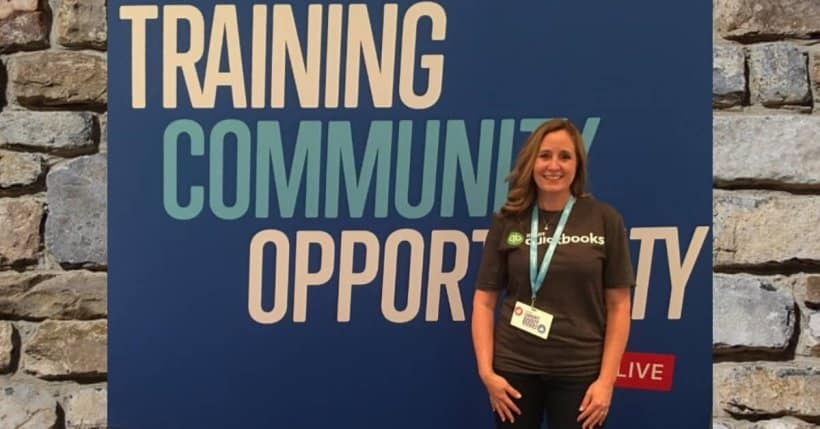 Intuit invited me to speak at a Facebook community boost event in Atlanta recently.
I presented two topics: Funding Options for Small Businesses and Metrics that Matter for Small Businesses. We may consider these topics as basic for us as accounting professionals, but many entrepreneurs are easily overwhelmed by all the options and numbers they face. Presenting at events like these is not only fun but also provides an opportunity to give back to the community, and possibly even gain a few clients.
Funding Options
Why do businesses need funding? They can use it to grow, to hire, to market, to expand and whatnot. The bigger question is how to generate that funding.
Go into debt – I like to see my clients operate debt-free as much as possible but taking on debt is a viable option. If a business uses QuickBooks Capital it is an easy process and something many small businesses will do.
Partners – Another option is being able to partner with a venture capitalist, friends, family, or others that may want to fund a small business using equity so that they become a co-owner. Basically, it is selling part of the business. Think of Shark Tank where the partners benefit from leveraging the experience of others as well as gaining funding. Of course, it also means clients lose some control. It is up to them to decide what is best for their business.
Funding from operations – Instead of going into debt or selling part of a business, owners can choose to grow slower by keeping sales high and expenses low. Do that for as long and as much as possible while reserving income to be able to expand the business in the way a client sees fit.
If a business is looking to grow, be there to give the best options based on individual circumstances and situations.
Metrics that matter
During my second presentation, we discussed tracking things that matter most in order to keep small businesses healthy.
Revenue – Track income and outflow on a regular basis: quarterly, monthly, weekly, depending on a business's needs. Keep things up to date. I recommend QuickBooks Online and other online software applications to my clients.
Customer Acquisition Costs – What does it cost to get a new customer? If you are advising clients this is vital but not so easy to see in financial statements. Accountants need to advise their clients how to and where to look for these metrics.
Cost of goods and other expenses – Make sure clients know what a chart of accounts needs to look like. It's easy to forget that clients really need to see those numbers and understand them in a way that helps them grow, rather than just tie it to the tax return.
Budget projections – Make sure information provided to clients will help them achieve their goals. This is more than a once a year conversation. It is important that clients know you are listening and see their business as unique.
Make sure your clients know that you are thinking of what's good for them, even before they know it.
We can help them understand that their future is important to us. And be sure to continue to check in and assist clients so they can expand and grow their businesses.
But most importantly, listen to your clients to truly understand. Then you can guide them to the best decision for their business and personal goals to be achieved.
Contact Carla
I would love to help you implement or improve better processes in your organization. Contact Carla here.