Team Meetings that Spark – Have you ever had a week of deep thinking and idea-sharing with a group of colleagues that leaves your brain tired, and yet you're so full of energy at all the awesome conversations that you can't wait to get started??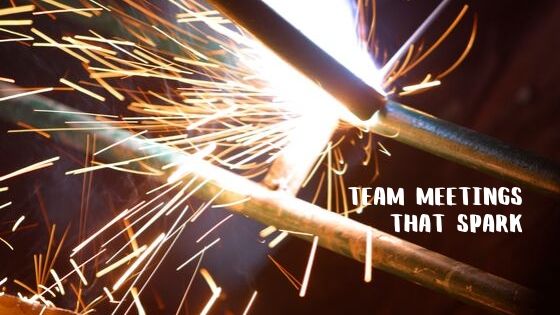 Well, I just had one of those weeks and it was amazing. Here are a few takeaways I had from my team meetings:
Iron Sharpening Iron makes sparks
Conflict can be good and necessary as new ideas are brought forward and fleshed out. When done with respect and the ability to concede that not all will "go your way," the consensus and improvements will be tremendous. So don't avoid the conflict, but do it respectfully.
Have some downtime, even during the team meeting
When a group of colleagues gets together for an off-site, you need the downtime to have fun and joke and not be serious 100% of the time. It can break the tension of an intense conversation, create new ideas and give room for inspiration.
Use technology to include those who can't be there
These days it is nearly impossible to get everyone physically into a room for a meeting, but with video conferencing you can include others who would otherwise be left out. And then also record all the sessions, so that if a session is missed they can listen later. It's also great to capture those ideas and even some side conversations that are often missed. Just be careful of those side conversations – they might get recorded!
Budget for these meetings
To bring your remote team together is not an easy or inexpensive endeavor, but worth it. The collaboration, comradery and idea-sharing are truly priceless and worth the investment in the team. You don't have to make it fancy or elaborate, but don't let the cost keep you from doing it.
Have an agenda
Yes, there should be some guidelines for the meetings, but also remember that it can be a bit fluid and change a bit. With creativity and ideas flowing, don't stifle things too much by needing to stick to an agenda. At the same time, keep some bumper-guards in place to keep it moving, like a time-keeper that isn't directly involved in the brainstorming.
Don't forget the snacks
While it may be a lot of sitting and thinking, for some reason that makes people hungry! Have healthy (and a few unhealthy) snacks available, as well as lots of water, coffee and other caffeinated beverages available.
Team Meetings that Spark
It's amazing the inspiration that comes, and the time spent together will truly bring your group together and allow some amazing ideas to come out. Getting away from the day-to-day is how you'll see the value in each member of your team, see some of their strengths you didn't know they had (or had forgotten) and also see the sparks that can light the entire group on fire for what's to come.
About Carla
Carla Caldwell is the founder and CEO of Caldwell Consulting & Training. She strategically guides accounting teams to become a modern practice.
Carla works with accounting firms to implement the tools and processes that help them be more successful. Focusing on the strategic goals of the firm, she provides coaching to individual leaders in the organization that may be transitioning from "doer" to leader. These leaders learn Carla's systematic approach to implementing change in the accounting services team whether they are revamping processes to fully utilize the team, or implement apps to fulfill their goals and scale the business unit. Learn more about Caldwell Consulting & Training.